SELVÄ
Breathe Better. Feel Better.
By monitoring continuous breathing through a wearable sensor, Selvä aims to be the first device to predict the onset of asthma attacks in children. Machine learning and a cloud-based mobile medical app leverages real-time data acquisition across the Selvä community to provide air quality alerts and locate high asthmatic-trigger areas.
Asthma is a chronic disease that causes inflammation in the airways. 6 million children in the US are affected by asthma making it the #1 chronic disease among American children today. Asthma costs the US economy $56 billion annually from medications and hospitalizations to missed work or school days. Currently, there is no continuous respiratory monitor that can detect or predict the onset of an asthma attack.

This represents a very large unmet need to control and prevent complications of asthma among kids.
Selvä utilizes an innovative, patent-pending wearable strain sensor to monitor continuous breathing in real-time. Our sensor is capable of sensing stretch of almost any surface it is attached to, and by placing this sensor across the intercostal muscles, Selvä measures how much the chest cavity stretches during breathing.

Selvä will then give live updates on breathing rate and lung volume changes, which can be linked from the user to multiple devices. Any time breathing patterns are indicative of an oncoming asthma attack, Selvä will send an alert to connected devices so that the proper medications, inhalers, or other action plans can be administered before the situation worsens.

Furthermore, every time a Selvä user has an asthma attack, Selvä will ping that GPS location. This will allow the Selvä community to avoid high density areas of attacks because of potential environmental factors that could trigger their asthma.

With this three-step solution, we hope to give parent's a true sense of control over their child's condition.
Video summary
24 million Americans are affected by asthma and 6 million of those are our target end users of children. Annually there are 1.6 million visits to the ER from asthmatic patients. Selvä will be able to curb this number by allowing for control over the condition before it progresses to that dire stage. Selvä's target customers will be large health networks and commercial insurance carriers as we can help cut down down on their overall direct cost of asthma, which is currently $3000 a person. This is a huge market that will provide lucrative footing for our product.
With continuous monitoring that can track asthma effectively even during sleep, Selvä makes it hard for similar products like Airsonea, Propeller or a peak flow meter - the industry standard - to match the power of our solution. Even our closest competitor, ADAMM, doesn't have added features of measuring peak expiratory flow or pinging GPS locations of environmental hotspots.Selvä isn't just unseen technology - it is truly superior to anything else out there.
So how are we going to make money? Once Selvä receives 510(k) approval, we will look to inform the public of the benefits of our device through asthma foundations, schools, and scientific publications. Selvä will also target large health networks like Kaiser Permanente and commercial insurance carriers like United HealthCare as our primary sources of acquiring customers. We want to prove to these networks that Selvä can save them millions of dollars from emergency room visits, extended hospital stays, and missed school or work days. Working with hospitals and insurance companies, we will be able to identify our target market more readily as a majority of kids with asthma will already be in these systems.

Distribution will occur on a prescription-based model, where healthcare providers will write a prescription to patients that need our device. Our pricing strategy will involve charging $70 for the hardware and a monthly subscription fee of $30 for the disposable sensors. The pricing is based off the current gold standard for at-home monitoring, the peak flow meter, which has a CPT code and is covered by most commercial insurance plans. We hope to work with hospitals and insurance companies so that patients will also have our devices covered under their insurance while paying a small co-pay.

In the figure above, our revenue forecast is shown through a conservative model approach. Selvä will look to gradually increase market penetration every year, starting at 0.05% of the market with 3,000 customers and about $1 million in revenue. Selvä is anticipating operating at a loss for the first 2 years but by Year 3, we aim to be profitable with an annual revenue of almost $6 million. By Year 5, we aim to reach over 100,000 customers and hit approximately $47 million in revenue.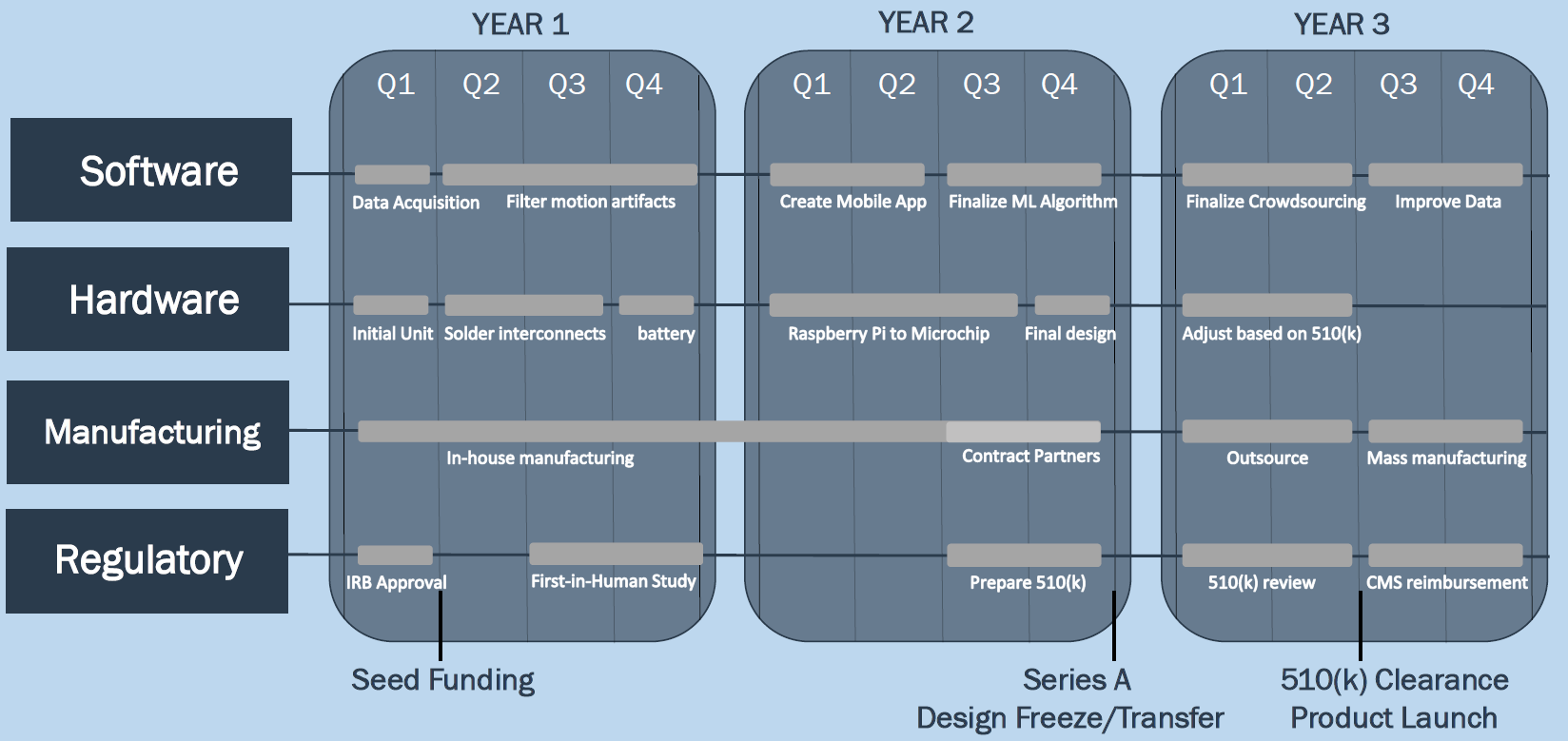 To reach our financial goals, here is a product roadmap of the major milestones Selvä will be aiming for. First, Selvä needs to raise seed funds early on in order to continue the manufacturing and prototype process. This seed money will also allow us to expand our efforts by looking into new materials or ways of producing our product. After 2 years, we hope to reach design freeze and design transfer. With the added value of a finished product, Selvä will also look for Series A investors to allow us to start mass production of our product as well as hire a sales forces. Our product launches in Year 3, marking our start of revenue gain.
Who we are
Spencer Mattson
Project Lead
Spencer is a 4th year undergraduate biomedical engineer with a minor in Gender Studies, who has conducted research in UCI Haun Lab for 2 years. He currently works as a peer advisor, assisting engineering students with major planing and academic guidance. Spencer plans to continue his education, pursuing a MSE in Biomedical Engineering at Johns Hopkins University.
Asana Pebdani
Software Lead
Asana is a 4th year undergraduate biomedical engineer with an interest in preventative healthcare. She is a researcher at UCI's School of Medicine, where she focuses on breast cancer biomarkers, and has also been a Process Engineering Intern at Gilead Sciences. After she graduates, she will pursue her career as a Junior R&D Engineer at Invoy Technologies.
Ali Siddiqui
Hardware Lead
Ali is a 4th year undergraduate biomedical engineer who is ready to graduate. He works as a peer advisor for the UCI School of Engineering, providing support on class schedules and major planning to over 3,000 undergraduate engineering students. He has been involved extensively with research under Dr. Michelle Khine, culminating into being a named author on 2 articles in prestigious scientific journals for his contributions.
Sara Boukai
Design Lead
Sara is a 4th year undergraduate biomedical engineer with a minor in French. She is the co-founder of Hearts of Mercy at UCI, a non-profit organization dedicated to helping Syrian refugees. After she graduates, Sara will pursue her career as a Systems Engineering Intern at Edwards Lifesciences.
Brandon Szeto
Business Lead
Brandon is a 4th year undergraduate biomedical engineer with a minor in Business Management, who has conducted research in UCI Haun Lab for a year. He has previous experience as a Bioanalytical Development Intern at Aduro Biotech. and has served 2 years on the Executive Board of Biomedical Engineering Society at UCI.
Amirah Aryan
Clinical Lead
Amirah is a 4th year undergraduate biomedical engineer. She has over a year of industry experience interning as an R&D engineer at Epinex Diagnostics Inc, and as a Process Engineer at Microvention Inc. She is currently a quality operations engineer intern at Johnson &Johnson leading 3 supplier quality related projects.
Michelle Khine, PhD
Technology Advisor
Michelle is a distinguished scientist, innovator, and professor at the University of California, Irvine. She is the co-founder of Fluxion Biosciences and Tiny Kicks, the scientific founder of the Shrink nano-technology platform, and the recipient of the 2009 MIT Technology Review: Top 35 Innovators under 35 in the World.
Francis Duhay, MD, MBA
Business Advisor
Francis is the President and COO of Aegis Surgical Ltd & Atrius Ltd, a partner at K5 Ventures, and the former Chief Medical Director at Edwards Lifesciences. Double board-certified in general and cardiothoracic surgery with 32 US and International medical device patents, he has invented and developed devices used in thousands of heart operations annually.
Lubna Ahmad, PhD
Regulatory Advisor
Lubna is the Founder and CEO of Invoy Technologies, and has raised over $10 million from angel and strategic investors to develop affordable breath analyzers for health applications. She has led Invoy's clinical research and multi-site validation studies, the company's product development efforts and robust intellectual property portfolio, and its manufacturing processes and quality certifications for commercialization.
We would love to hear from you!
Selvä
311 W Peltason
Irvine, CA 92679